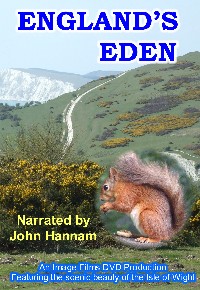 The Isle of Wight has been a popular holiday destination since Queen Victoria first visited in 1844, but, despite the fact that you can still find architecture and landscaped gardens from the Victorian era, the Island is not stuck in the past.  Although it can boast safe sandy beaches, cream teas and the sunniest climate in the British Isles, there is much more on offer for today's visitor. Join us on a scenic tour where outstanding natural beauty exists alongside the latest attraction, with frequent stops along the way to sample the many varied events and activities on this vibrant England's Eden.
Narrated by John Hannam – Showbusiness Journalist and Radio Presenter.
PAL Televison system, Region 2, Stereo Sound and Aspect Ratio 4.3, 50 minutes

Price including UK postage: £11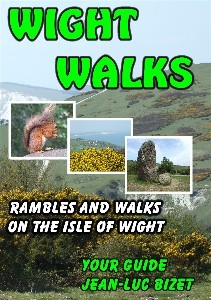 A new departure for Image Films, a DVD showing the Scenic Beauty of the Isle of Wight today through the eyes of a visitor from France.
The Isle of Wight has over 1000 Footpaths and Bridleways passing through Woodland, Farmland, Townscapes and Downland, as well as some 65 miles of Coastal Paths which almost encircle the Island. 'Wight Walks' will take you along some of the quieter and lesser known routes that can be completed in a leisurely morning or afternoon. Grid references are given for start and finish points, maps of each walk can be downloaded for printing and you will be guided along the way with observations of the Natural and Man-made Landscape features, as well as the Flora and Fauna, with a little Local History thrown in for good measure. Alverstone, The Devil's Chimney, Newtown, The Longstone, St Catherine's Hill and Seaview are the varied walks, something for all ages and abilities. Watch the DVD, print the Maps, put on your walking shoes and explore the great outdoors of the Isle of Wight.
Aspect Ratio 4.3 | Stereo Sound
Pal Region 2 | Running time 60 minutes
Single Layer Single Sided Disk | Colour
Released: 01 January 2012
Price including UK  postage: £6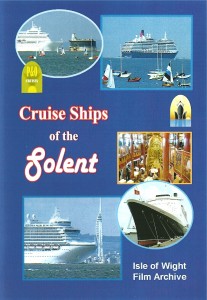 In 2012 P&O Cruises celebrated 175 years of operation from Southampton with all seven ships of it's fleet assembled to mark the occasion. Cunard also assembled all three of the "Queens" in honour of Queen Elizabeths' Diamond Jubilee. This DVD from the Isle of Wight Film Archive recaptures the delights of these Ships of the Solent.

Aspect Ratio 16.9 | Stereo Sound
Pal Region 2 | Running time 65 minutes
Single Layer Single Sided Disk | Colour
Released: 2012
Price including UK postage: £12.99