ALL DVDs/Blu-Rays ARE PAL TELEVISION AND REGION 2.
IF ORDERING FROM OUTSIDE OF UK PLEASE CONTACT US BEFORE PURCHASE
TO CONFIRM ADDITIONAL POSTAGE COSTS. PRICES SHOWN INCLUDE POSTAGE TO UK ADDRESS ONLY.


 RAILWAY RUNAROUND Part seven  "The Ivatt Gala"
It was the 25th of May 2018 that for the very first time a six coupled tender locomotive would run in service on our Island rails. The Ivatt Trust having transferred the ownership of their three, now fully restored, 2MT class locomotives to the Island's steam railway. With three cameras in operation, including our drone camera, this DVD covers this three day special event from start to finish.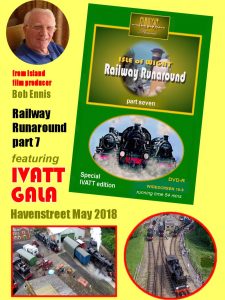 Railway Runaround 7 "Ivatt Gala"   £12.99 including 1st class postage to UK address.

 FOR MORE DETAILS OF EACH TITLE  CLICK   DVDS   on NAVIGATION BAR