Welcome to the Image Films website. Here you will find details of all of our current DVDs to purchase  and also news of future releases. If you wish to view a short clip from any of the DVDs visit the  Preview  page. We also offer a Transfer service; Film to DVD, VHS Tape to DVD and Records or Magnetic Tape to CD. Visit our Service Pages for full details.

EVERY WEEK COME TUESDAY
Over th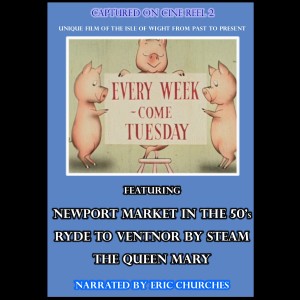 e years the Isle of Wight has seen many changes, especially some of the town skylines that have changed beyond all reconition. Where we now shop for convenience food once stood a thriving cattle market, the bus station once resembled a bomb site, and cinemas have been converted into pubs and even shops. We quickly accept all these changes and forget what our surroundings once looked like. Our children take it for granted that all these buildings have been here since time began and accept them as part of their daily life. Do you remember when Newport had a Railway? Or when Steam trains ran to Ventnor, and Shanklin had a pier? "Every Week Come Tuesday" may jog you memory and help you recall lost buildings, places and faces of everyday Island life over the last fifty years, including the weekly Market held in South Street, Newport, and a journey by steam train from Ryde Pier Head to Ventnor in the late 60s, as well as a trip aboard the "Queen Mary" from Southampton to New York in 1965.
PAL Televison system, Region 2, Stereo Sound and Aspect Ratio 4.3, 1 hour

Released: 01 January 2007   £11 including postage

ALL DVDs ARE PAL TELEVISION AND REGION 2. IF ORDERING FROM OUTSIDE OF UK PLEASE CONTACT US BEFORE PURCHASE TO CONFIRM PRICE INCLUDING POSTAGE.
 FOR MORE DETAILS OF EACH TITLE  CLICK  

DVDS

   on NAVIGATION BAR
Latest Release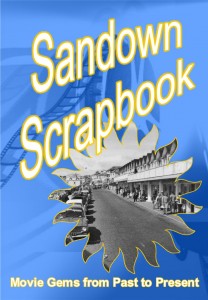 SANDOWN SCRAPBOOK       Revised release April 2015
Price including postage: £8
"Sandown Scrapbook" brings together selected scenes of Sandown from our extensive collections. Sit back and enjoy Sandown from the 1930s to the present day, with a varied and eclectic selection of clips including views of the Pier, Carnivals, A visit by the Queen, Steam Trains, Brown's Golf, the Boating lake and the Blue Lagoon Swimming Pool, just to name a few. Also included is a short film, 'Sunshine Isle', depicting the Island in the 1950s.
Aspect Ratio 4.3 | Stereo Sound Region 2 | Running time 50 minutes | Single layer Single Sided Disk | Colour and Monochrome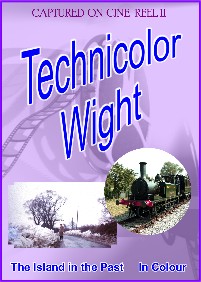 TECHNICOLOR WIGHT
Price including postage £11     
The first colour film was invented in 1911, but only wealthy amateur movie makers could afford to use it in those early days; for recording special family events such as birthdays, holidays and Christmas. It was not until the 1950s, when Kodak invented Kodachrome, that the ordinary man on the street was able to make colourful home movies. Unfortunately, early colour film was unstable and, unless stored correctly, would deteriorate and lose colour, as well as becoming brittle. The Image Films Archive contains many reels of colour home movies and with the aid of the latest digital processing has been able to restore some footage to its former glory. Ventnor beach in the 40s, the first Hovercraft service in 1962 at Appley, Sandown Zoo in the 70s, Snow on the Island in 1947 and West Wight in the 1950s are just some of the clips featured on this DVD. Join us on a journey around the Island of the past, over four decades, from the 1940s to the 1970s in colour.
Aspect Ratio 4.3 | Stereo Sound | Region 2 | 62 minutes | Colour
Released: 1 January 2015  
To view a clip from  "Technicolor Wight" visit our Preview Page